Big shout out to our friend Whitney Daane, Founder of DAANEgerous Entertainment for a stellar discussion about Music Publishing on our first Live! From MusicRow411 on Facebook Live! The hour long Q & A with MR411 founder Beth Raebeck Hall  was attended by tons of Ultimate Songwriters Sweepstake participants, MR411 members ,hit songwriters, subscribers and many others.
Daane, is one of the country's most knowledgeable and savvy music publishers and is known for her razor sharp mind and hilarious wit.  From running Madonna's publishing company Maverick Music to launching the creative presence in the US and Nashville for powerhouse KOBALT, Daane is widely loved and respected by industry peers, songwriters and artists.
Responsible for many #1 songs and over 100 multi-genre hits in music, television and film, Daane spoke honestly and with humor about the myriad facets of the music publishing industry and offered helpful career tips and wisdom. Her stories are legend through the biz, and she shared many tidbits with the group.
She has agreed to return for an encore session later this summer, providing more helpful career advice and tips and more stories about working with mega songwriters like Desmond Child (Livin' on A Prayer), Shane McAnally (Songland) and a ridiculous number of others in all genres, in Nashville, New York, Los Angeles and London.
More great Live! Sessions to come
Having access to the wisdom and knowledge of MusicRow411's vast network of friends, colleagues, creators, artists and hitmakers is why we bring you the best industry advice and information to help you with your career. This is about YOU, not us. We've got some really exciting guests lined up and will be posting a schedule here and on our MusicRow411 Facebook Page.
Don't Miss Out
Lucky winners will receive over $35k in prizes later this week, so don't forget to enter (links and info to the right).  Don't miss out, and don't forget to sign up for the Music Row Minute newsletter to get great resources, access to Freebie Fridays and other fab goodies.
When you buy Better Songwriting, Buiding a Better Band or Booking Better gigs, you get access to a private community, Facebook group and access to new and exciting music tools.
We're all about helping you get better – so jump on in, the water's fine!!
And there's always room in the pool:)
"The best fighter is never angry."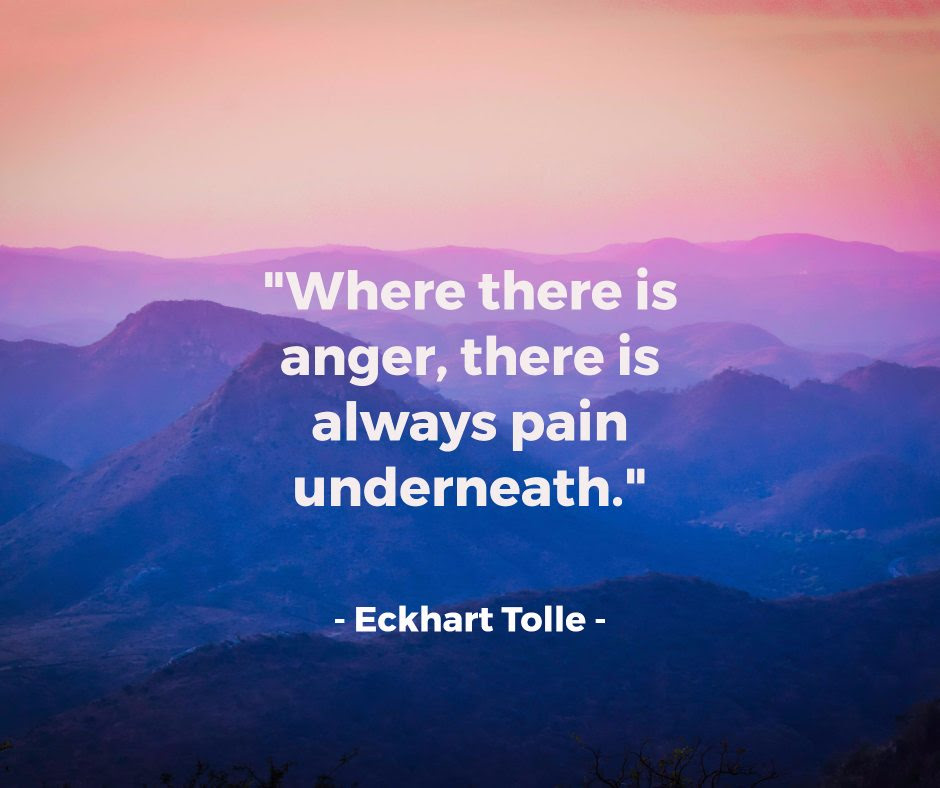 4) Inner peace is knowing how to belong to
oneself, without external validation.
Many people are concerned about what other people think of them. But you don't need to look to others to find yourself. You are who you are and what others think about you doesn't make a difference to that.
Here's a quote from spiritual guru Osho that provides some inspirational advice on why you shouldn't care what other people think of you:
"Nobody can say anything about you. Whatsoever people say is about themselves. But you become very shaky, because you are still clinging to a false center. That false center depends on others, so you are always looking to what people are saying about you. And you are always following other people, you are always trying to satisfy them. You are always trying to be respectable, you are always trying to decorate your ego. This is suicidal. Rather than being disturbed by what others say, you should start looking inside yourself…
Whenever you are self-conscious you are simply showing that you are not conscious of the self at all. You don't know who you are. If you had known, then there would have been no problem— then you are not seeking opinions. Then you are not worried what others say about you— it is irrelevant!
Your very self-consciousness indicates that you have not come home yet."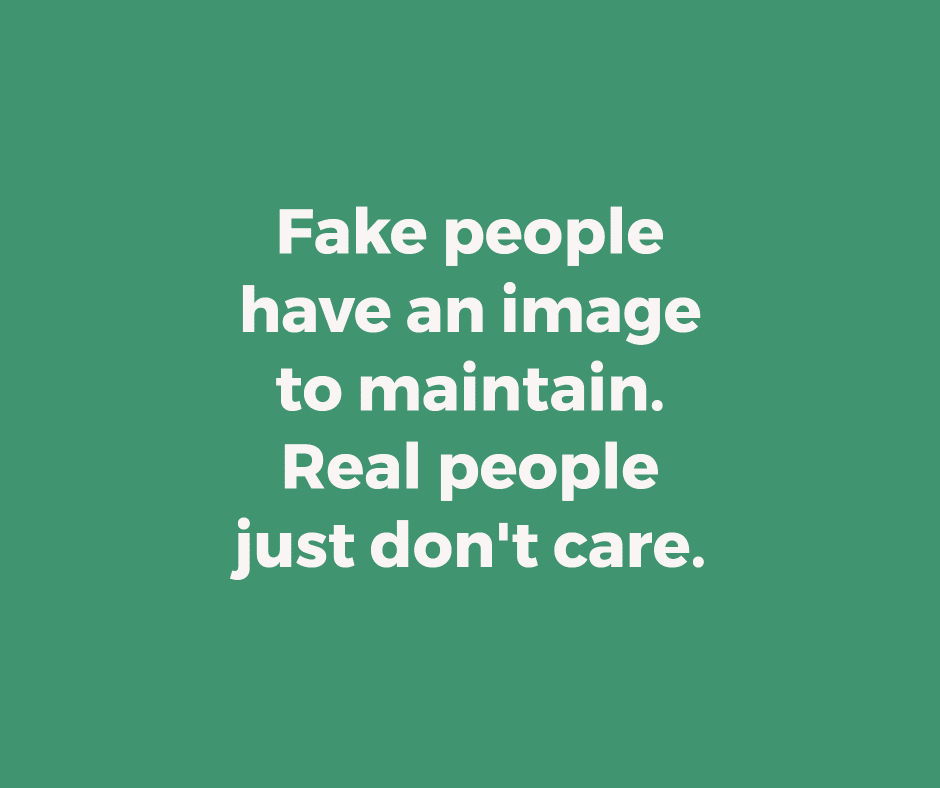 5) Everything is created twice, first in your mind
and then in your life.
Our brains are powerful instruments, and they create the world around us.
And the truth is that you won't act unless your brain knows what you're doing. So have your plans and goals in place, and then take action.
"The future depends on what you do today." – Mahatma Gandhi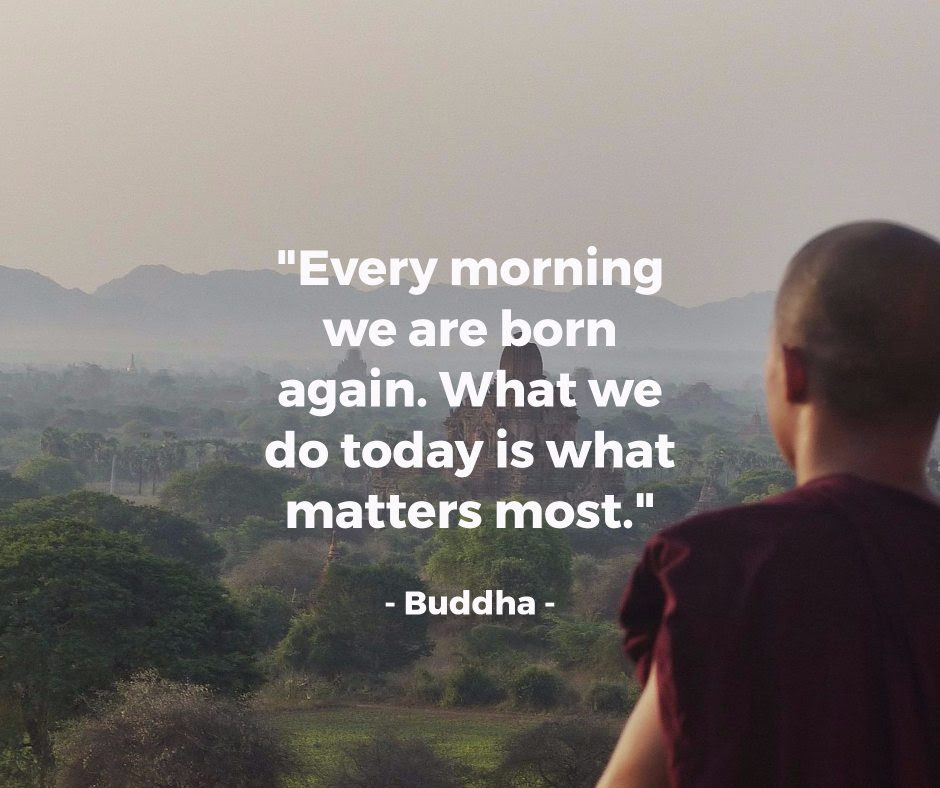 6) We must walk the path.
Life comes with many challenges and adversities for everyone, but the one thing with have control over is how much effort and willpower we put into something.
We can't attach our happiness or success towards outside objects. It all lies within us.
"No one saves us but ourselves. No one can and no one may. We must walk the path." – Buddha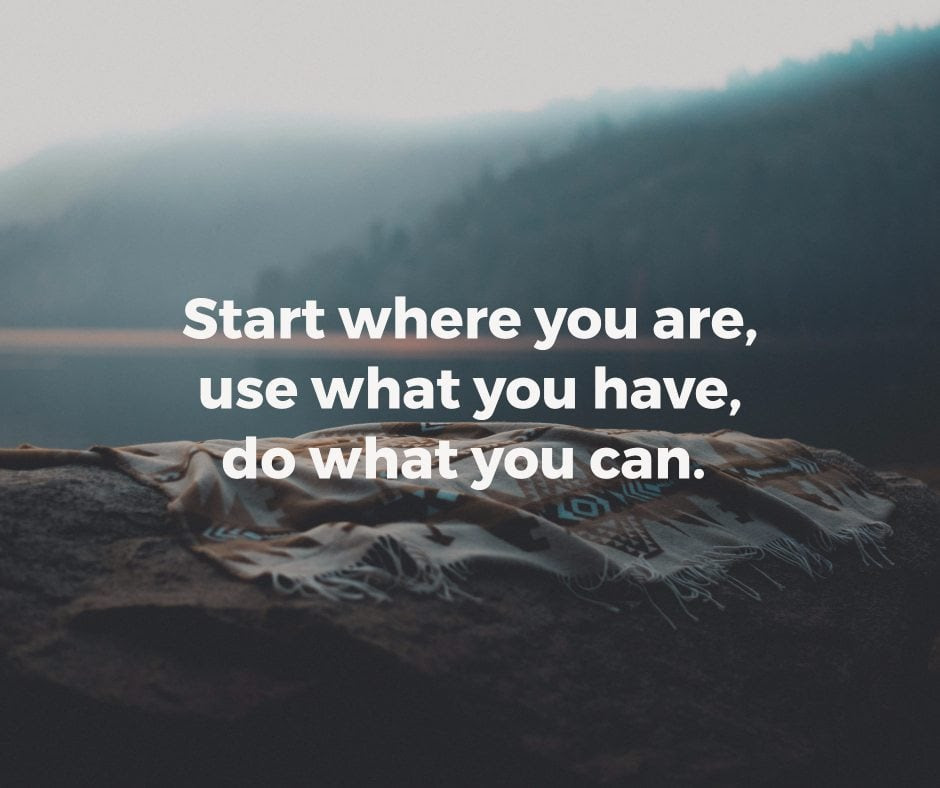 7) To strongly believe in something, and not
live it, is dishonest.
Don't bend to what "society" wants you to be. Don't change who you are so other people will accept you. It's important to be authentic and follow your heart.
Characterize yourself by your actions, and other people's words will never fool you.
"Today you are You, that is truer than true. There is no one alive who is younger than You." – Dr. Seuss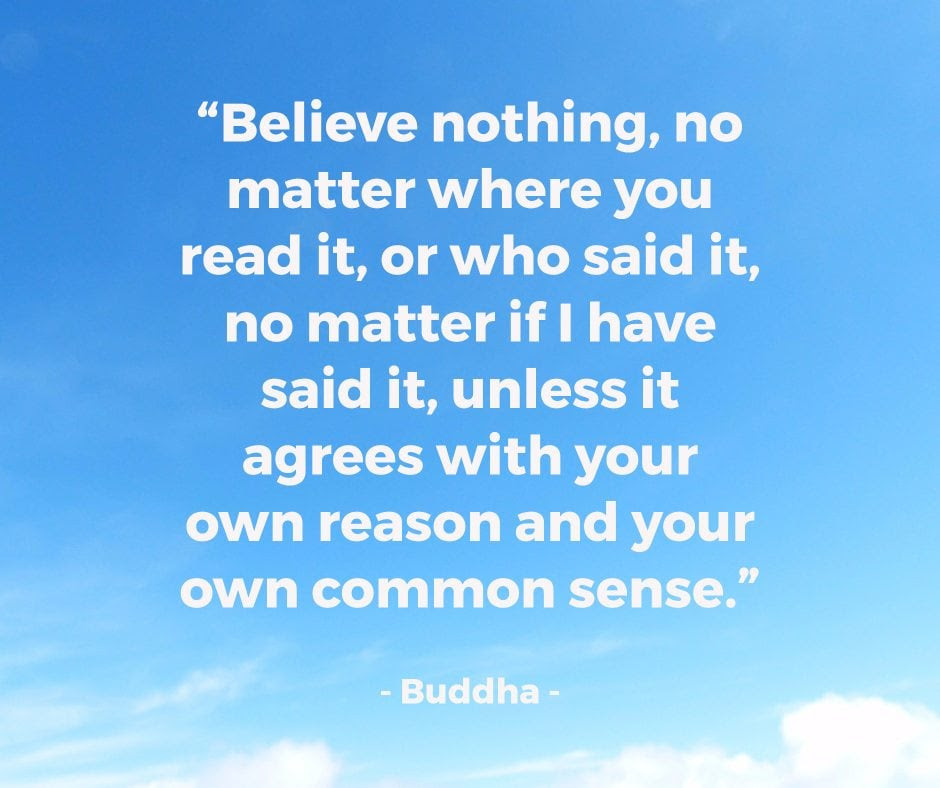 8) The right path and easy path are rarely
the 

same paths.
You'll eventually come to realize that struggle is what makes you grow, and it's always worth it. While every step may be tough, it will lead you to where you want to go. Just because something seems difficult doesn't mean you shouldn't do it. It's all the more reason to chase your goals.
"Those who have failed to work toward the truth have missed the purpose of living." – Buddha
9) If you want the benefits of something in life,
you have to also want the costs.
So many people ask themselves questions like "what am I passionate about?" to find their purpose in life. However, a better question is "what is worth suffering for?" This will help you find what you truly want to do, and your life will be more fulfilling because of it.
"Life will give you whatever experience is most helpful for the evolution of your consciousness. How do you know this is the experience you need? Because this is the experience you are having at the moment." – Eckhart Tolle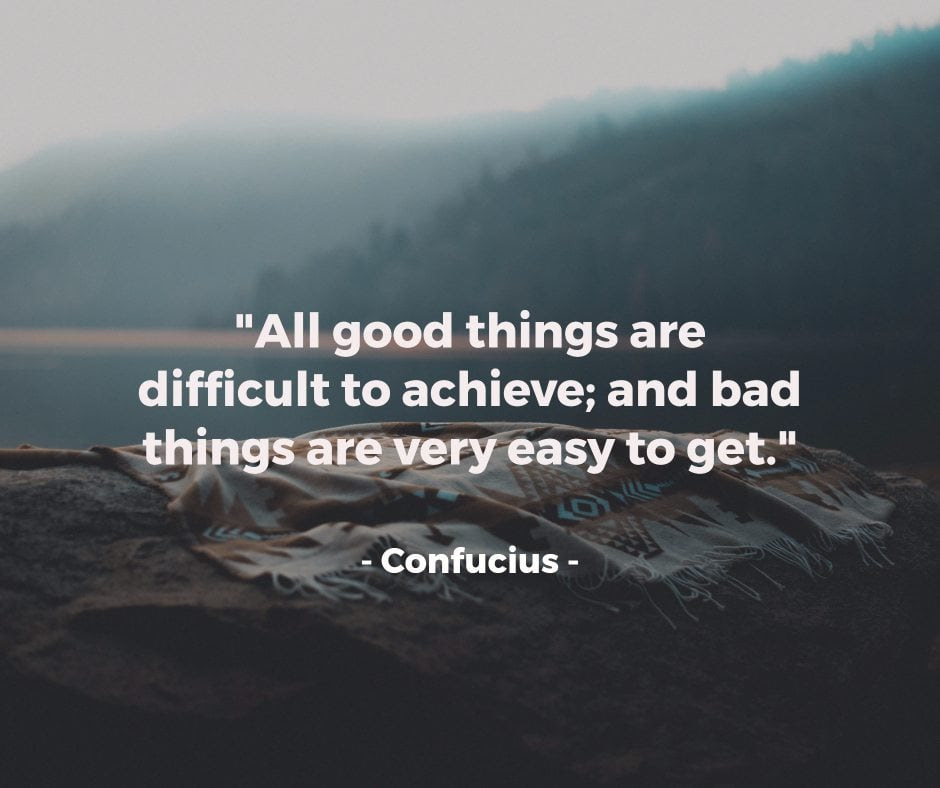 10) Over-committing is the antithesis of living a
peaceful, mindful life.
So many of us have a massive to-do list filled with tasks that we couldn't possibly finish in one day. We think we have to be busy all the time. However, sometimes it can be more rewarding to focus on one task at a time and mindfully be absorbed by it. We also need time to rest and appreciate the beauty of life.
"You must learn to let go. Release the stress. You were never in control anyway." – Steve Maraboli
11)  When you try to control too much you
 

enjoy too little.

As human beings, what is it that's so alluring about control? We desire certainty and comfort.

The irony is that there is no such thing as control. We are never in control. Ever. The sooner we grasp this and learn to go with the flow a little more; the easier life will be.

"Tension is who you think you should be. Relaxation is who you are." – Chinese Proverb
If you'd like to learn more about mindfulness from Lachlan, you can order his book The Art of Mindfulness: A Practical Guide to Living in the Moment.
Thanks for stopping by today!  Don't forget to enter the Ultimate Songwriter's Sweepstakes and of course share this the blog with your peeps.  We're building something special here and haev lots of exciting things ahead for you in 2020
Stay safe!
Enter to Win!
Win a songwriting coaching session with  a Grammy nominee and prizes worth mucho $$$$
Going stir crazy? Missing your peeps? Pissed about not being able to gig or have co-writing sessions? We get it! So guess what?  We decided to have a free contest for you – to have fun, to connect with friends, and to learn during the STAY-at-HOME time.
Up your game, enter mucho times to win prizes and get the chance to get a bunch of free stuff, learn new things, some cool apps, and connect to resources.
Here's what's included:
Accelerate
Your Career & Learn How to Earn During COVID-19
The Grand Prize Winner Wins:
Win a Once-in-a-Lifetime Half-Day of Mentoring and Songwriting Coaching ($1,997 value)
Get Life-Changing, Personalized Career Advice
Receive an All Access Lifetime Pass to the Music Row 411 Industry Education Platform ($1,288+/yr value)
Get a Free Custom Website 
($2,497 value)
PLUS: Every Single Contest Participant Will Receive Free Access to…
Weekly Q&A sessions during the contest where you can ask your questions and get advice about topics such as:
Making money online right now for short term cash flow
How to stay creative and motivated during the corona virus fallout
How to collaborate and co-write while practicing safe social distancing
Access to a free community of like-minded creatives, songwriters, and musicians for support and networking
Free resources to help you build a better long-term career in music
And we're giving away 4 additional 1st Place Prizes which include All Access Passes to the Existing Music Row 411 Courses ($1,288/yr value)
During the month of April we're going to be bringing you lots of updates on resources for creatives, articles of interest and other  great stuff.
We want to help you get better during this time of crazy!!!!